Mandarin Cheesecake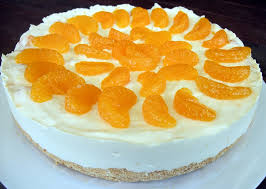 Overview:
This is an old favourite which works well for a dinner party as for an everyday dessert. If you are preparing the cheesecake ahead, the mixture can be made the day before, but keep the biscuit base crunchy by mixing it on the day that it is needed.
---
Ingredients:
50g low-salt butter or margarine
100g digestive bisciuits, crushed
250g curd or cream cheese
50g caster sugar (or equivalent of suitable sweetener)
1 orange, grated rind and juice
170 mls double cream, whipped
1 small tin mandarin oranges, for decoration
4 leaves fresh mint (optional)
---
Preparation:
Melt the butter or margarine and stir in the crushed biscuits. Press the mixture onto a base of a quiche dish and leave in the fridge for 20 minutes or until firm.
Mix the curd or cream cheese with the sugar, orange rind, juice and whipped cream. Spoon the mixture onto the biscuit base and leave in the fridge for another 30 minutes. Before serving, decorate the topping with the mandarin oranges and mint.
Serves:
6
---
Suitable for:
CKD Non-dialysis
Dialysis
Diabetes
---
Nutritional Information:
High energy
Low potassium
Low phosphate
Suitable for diabetics (if using sweetener)
---
Source:
Eating well with Kidney Failure
Join Us
Register with us, become a member and subscribe to our newsletters including the latest on the impact of coronavirus for patients at St George's Hospital.