About this site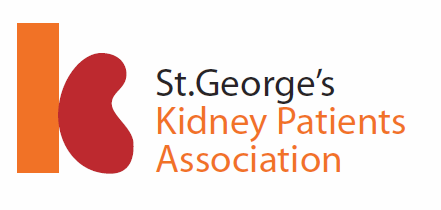 As renal patients we have created this site to help you if you are:
a patient diagnosed with Acute Kidney Injury (AKI) or Chronic Kidney Disease (CKD).
a friend, relative or carer of a patient
a person considering kidney donation
a person considering or wanting to make a charitable donation to the St George's Kidney Patient Association (StGKPA)
Local General Practictoners (GPs)
We've created this site with
Please take a look round and let us know what you think by using the "Have your say..." box on the right or email webmaster@sgkpa.org.uk
If you are a new patient or new to the issues surrounding kidney disease, why not start here.
If you are an existing patient at St George's and want to know what the latest information is why not try out the following:
If you are thinking about becoming a kidney donor then start here.
If you're a local GP why not start here.
Keep in touch with all the latest news
Lets us keep in touch with you.

Register with us and get:
all the latest developments and changes as ST George's Hospital Renal Unit
the right to vote and have your say on the issues that matter to you
allow the medical teams to update you on their latest advice and work.
https://www.sgkpa.org.uk/main/register-with-st-georges-kidney-patients-association