Fundraising Advice & Tips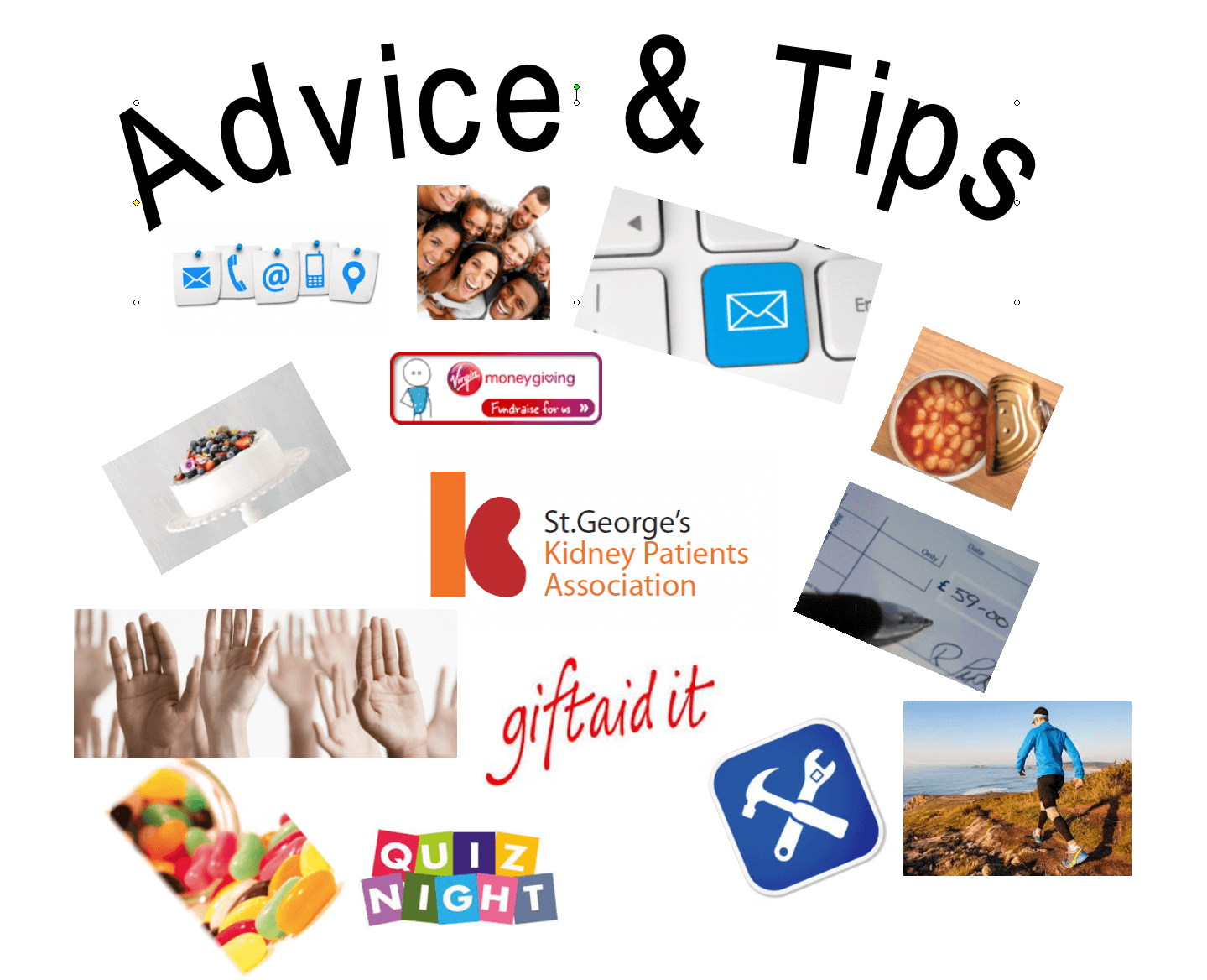 Here are our top tips to make your efforts more successful. If you need any help, please get in contact by emailing us
Advice
Firstly, thank you for considering to raise funds for us.
You will find our best advice on this site and the guides we provide. So please take a little time to explore - it may save you time and help you raise more money for us!
Read our:
Fundraising guide - all our best advice in one place.
Resources page - this has lots of physical and digital items to help you.
Donations page - this helps you understand the ways to donate.
We have many other to help you so just explore our fundraising page and please don't forget the importance of getting gift aid, it will boost everything you collect by 25%! Take a look below at other ways to boost your fundraising total.
And don't hesitate to contact us for help if it's not on the site.
Tips
Get planning The sooner you start organising your event, the better organised you'll be and the more you'll raise.
Make it personal & tell a story! Your friends and colleagues are often donating because you are asking as much as the cause. What's your motivation? People who put a photo on their online fundraising page raise 53% more than those who don't so make sure you snap a selfie too.
Get connected Tell absolutely everyone about what you're up to. Let your local paper and radio station know too. And use any social networks you have. Tell us about it. We love to hear what you're planning, and can provide you with additional materials you might need. Email, or post on our Facebook or website. Tell them early, tell them often. Make a story of the preparations to help build up the excitement and keep in touch with your donors. For more on tips on fundraising by email read here.
Get others involved Friends, family, colleagues and of course us here at St George's Kidney Patients Association want to support you! Be sure to ask for help and ideas to see what others might be able to add to your project. When you all put your skills together the project will just get better.
Why not build a team to share the workload and have more fun together. You can set up a Just Giving page.
Maximise your donations.
Make sure you get gift aid forms signed (if not on line) to add 25%.

Ask for donations around payday.

Don't be afraid to prompt someone if they forget to donate after promising to. We all get distracted by our busy lives. Keep people up to speed during your preparations.

Advance ticket sales means guaranteed donations

Ask your employer if they match donations you raise.

Create a QR code link your donors to your to your fundraising page via a QR code. Create it using one of the many free tools online and display it on posters and handouts.
Just ask! Some people can't attend an event, or you might decide to "Just ask" for donations rather than going to the effort of participating in or organising one. Many people want to help but just can't attend. Direct them to your Just Giving page. Ask for donations at an event.
Keep it simple The best fundraising is the simplest. We've put lots of information here but it's much better that you achieve the goals you set out to achieve rather than stopping because things became too complicated and time consuming.
Cameras at the ready Take lots of photos, share them on social media, email and our website by sending them to us after your event at donations@sgkpa.org.uk.
Have fun & Thank everyone You've worked so hard to get to the big day, so make sure you enjoy yourself! Share your success and let your supporters know how much they helped you raise. We have thank you templates on our website if you need them.
Go Online You'll find more information on everything at www.sgkpa.org.uk/fundraising
Additional Tips for organising an event
Beyond the tips above, if you choose to organise an event here are some additional tips:
Planning - Decide on whether you need organise your own event to raise the money. Obviously the more complex the event the more time and effort it will take to organise. Tea party v.s. cricket match - big difference! If you have to spend money, make sure you work out how much you need to raise before you cover your costs and how much to reach your fundraising target. Is it worth it? And don't forget to check out our fundraising ideas page.
Pick the right date! Make sure you choose a date that suits your attendees. Avoid popular sporting events, work days if you attendees work or have children at school. Beware events during holidays. Well-advertised they can be great for those looking for activities while at home; bad news if your target audience is on holiday.
Target the right people - it might sound clinical and even mercenary, but you find that there are always some people who spend or donate more at events. Big charities always know who their generous donors are. A small number of big spenders can make up for large numbers of well-meaning people who make the event fun but you need to attract a lot more of to raise money.
Minimise your costs - Telling a venue owner the event is for charity may mean they let you have it for free or at a reduced rate. Ask local businesses for sponsorship of, advertising at or help promoting the event. Ask people to make and/or donate prizes. And if you have to pay make sure you shop around. See if you have friends who have access to wholesale prices.
Minimise your financial risks - If you are buying items to sell e.g. drinks, buy from places that will accept sale-and-return of unsold goods (supermarkets are good about this - especially with alcohol).
Minimise health and safety risks - Read our health and safety advice. Make sure you undertake a risk assessment for the event. You will need to check if the venue holds Public Liability Insurance, alcohol and other licence as required. Don't assume you're covered! For larger and more complex arrangements, make sure you have an agreement between you providers and you that spells out each other's commitments and responsibilities. Contact us for more help here.
Maximise money raised - Dedicate a great deal of effort to selling tickets! It sounds obvious, but for events that aren't going to sell out, people often keep their options open and decide last minute. This is a nightmare when you've spent time, money and effort and don't know if anyone will come and help you raise money. Can you find people to run stalls and activities to raise more money? At a recent event, we raised of £500 more money from the sale of drinks and ice creams, a couple of small raffles and auctions and just asking for donations!
Find labour saving options - Make sure you balance between activities that save cost but involve effort versus labour saving choices that cost a bit. A good example is ice cream. You could buy ready-made branded ice creams from discount stores that accept returns or where you have friends that will buy the unsold items from you. A good mark-up on these "appealing" items can make more money than buying scoops, cones and tubs of ice cream that takes time serving and which will sell for much less.
Build your team! There is nothing more depressing than starting our with enthusiasm, only to find that you are the only one prepared to put in effort. So build your team early and it will make the whole event more fun as well as share the work around.
And don't forget the tips at the top of the page too!