Set up a JustGiving page
How to set up a page to collect donations on behalf of the St George's Kidney Patient Association.
Raising money online couldn't be simpler. If you haven't already, select "Fundraise for Us" link on this page and set up a JustGiving fundraising page so your friends and family can sponsor you in a matter of minutes.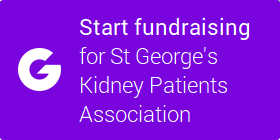 JustGiving have created a really useful video on how to use your JustGiving page to make fundraising really easy. Watch the video.
Why fundraise online?
It's easy to set up and manage. Your friends and family can sponsor you from anywhere at any time and you don't need to spend time collecting money.
You can use it as well regular donation forms, giving friends and family two ways to support you.
If you are a UK taxpayer, JustGiving will automatically reclaim at least 25% in Gift Aid on your donation at no additional cost to you.
Ways to make the most of your page