Pineapple and Pepper Curry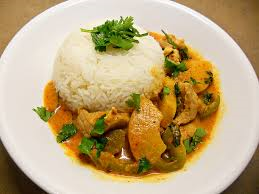 Ingredients:
4 green peppers (sweet pepper / capsicum)
80 g red onion
1 tablespoon coriander
5 cherry tomatoes
1 tablespoon ginger root
2 tablespoons vegetable oil
80 g Pineapple chunks, canned in juice
1 teaspoon curry powder
1/2 tablespoon lemon juice
---
Preparation:
Chop pepper, onion, and coriander. Cut cherry tomatoes in half. Shred ginger root.
Heat oil and when hot add ginger and red onion. Cook until onion is transparent.
Microwave peppers on high for 6 minutes. Add the peppers to onion mixture. Close the lid of the pan and cook on low for 10 minutes, stirring to avoid burning peppers.
Add pineapple chunks and simmer for 2 minutes. Add curry powder and coriander. Turn the vegetables once and let simmer on low for 2 minutes.
Garnish with cherry tomatoes and lemon juice before serving.
---
Notes:
Serve curry with bread or rice. You can also add a meat if your diet permits this additional protein/potassium/phosphate within your allowance. If in doubt ask your dietician.
Serves:
4
---
Suitable for:
CKD Non-dialysis
Dialysis
Diabetes
---
Nutritional Information:
Per Serving
Calories
107
Protein
1 g
Carbohydrates
10 g
Fat
7 g
Cholesterol
0 mg
Sodium
4 mg
Potassium
232 mg
Phosphorus
26 mg
Calcium
19 mg
Fiber
1.9 mg
---
Source:
DaVita.com