Renal-Friendly Beef Stew Homemade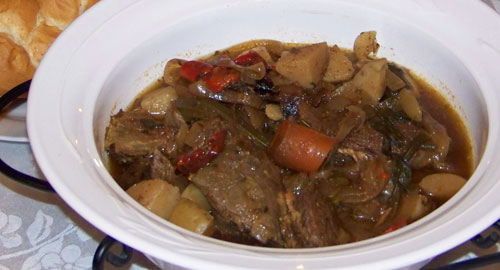 Ingredients:
0.75 lb stew meat
4 Cup potato
4 Cup carrot
4 tablespoons onion
0.50 teaspoon salt
0.25 teaspoon black pepper
0.25 Cup flour
1 teaspoon Mrs. Dash seasoning mix
0.25 Cup olive oil
---
Preparation:
Mix flour, salt, pepper grilling blend in plastic bag. Put meat in the bag and shake. Saute coated meat in skillet w/olive oil. Put potatoes, carrots and onion in water to cover and bring to a boil. Add the coated meat and all drippings from the skillet in the pot with the vegetables. Cook until all are tender and serve.
---
Notes:
Prep Time: 15 mins, Cook Time: 45 mins
Suitable for:
CKD Non-dialysis
Dialysis
Diabetes
---
Source:
Courtesy of www.Food.com