Roast lamb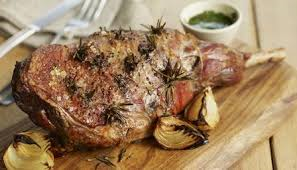 Overview:
Traditional favourite, roast lamb. To keep the potassium content low choose low potassium vegetables and par boil potatoes if they are being used.
---
Ingredients:
1 boneless leg of lamb, well trimmed, rolled and tied (about 2Kg)
2 tablespoons oregano leaves, dried and crushed
4 tablespoons fresh rosemary leaves
2 garlic cloves
1 teaspoon salt
1 teaspoon black pepper
60 g butter
60 ml fresh lemon juice
240 ml water
---
Preparation:
Preheat oven to 160° C. Set butter out to bring to room temperature.
Wash and lightly trim the fat from the lamb and set aside in a roasting pan.
Chop rosemary and mince the garlic.
Blend the oregano, rosemary, garlic, salt and pepper and half the soft butter or margarine together in a small bowl.
Make slits into the leg of lamb with a sharp knife and stuff the herb and butter mixture into the slits.
Spread the remaining herb and butter mixture over the lamb.
Mix lemon juice with remaining butter and pour over lamb.
Cover and bake 65 minutes for each Kg.
After an hour, remove the lid, add the water to the drippings in the pan and baste often until the meat is well browned and tender.
Uncover during the last half hour of cooking for a crisp skin.
---
Notes:
◾For a lower protein diet reduce portion to match your meal plan or check with the dietitian to determine portion size. ◾Use this guide for cooking times: http://www.bbcgoodfood.com/howto/tools/roast-timer
Serves:
10 serving size 110g
---
Suitable for:
CKD Non-dialysis
Dialysis
Diabetes
---
Nutritional Information:
Per Serving

Calories

318
Protein
30g
Carbohydrates
0g
Fat
22g
Cholesterol
118 mg
Sodium
326 mg
(114 mg, if prepared without salt)
Potassium
394 mg
Phosphorus
228 mg
Calcium
32 mg
Fiber
0.5 g
---
Source:
DaVita.com
Join Us
Register with us, become a member and subscribe to our newsletters including the latest on the impact of coronavirus for patients at St George's Hospital.