Spicy bean burgers with cous cous, coriander, lime and crème fraiche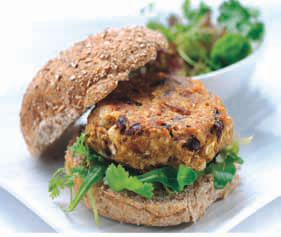 Overview:
Spicy bean burgers are relatively low in potassium and phosphate and make a good alternative to meat on the BBQ.
---
Ingredients:
Burger:
400g tin of kidney beans
400g tin of butter beans
1 bunch of spring onions
1-2 chillies (depending on how hot you want them)
1 garlic clove
50g sundried tomatoes
Large handful of fresh coriander
50g breadcrumbs
2 medium eggs
100g feta cheese
1 small red onion
Cous Cous:
250g cous cous
400ml boiled water
150g cherry tomatoes
Small tin of sweetcorn
Sauce:
75g crème fraiche, half a lime, black pepper
---
Preparation:
Drain and rinse the beans and put into a large bowl.
Use a rolling pin or potato masher to give the beans a rough mash or put in food processor and blitz (depends on how you like them).
Trim, slice and add the spring onions, chilli and garlic. Chop the sundried tomatoes and add to the bowl.
Chop the coriander and then add this to the bean mix along with the breadcrumbs, crumbled feta and beaten egg.
Tip the cous cous into a bowl and add the water with some oil and cover for about 8 minutes.
Finely chop the rest of the coriander and put in a small bowl with crème fraiche, lime and black pepper.
Make the bean mixture into burgers and fry with some vegetable oil on both sides until lightly coloured.
Cut the cherry tomatoes in half and add to the cous cous with the sweet corn.
Slice the onion and put on top of the burgers with a dollop of crème fraiche and cous cous on the side.
Suitable for:
CKD Non-dialysis
Dialysis
Diabetes
---
Source:
This is a recipe by Lorraine Pascal.