Sweet and Sour Pork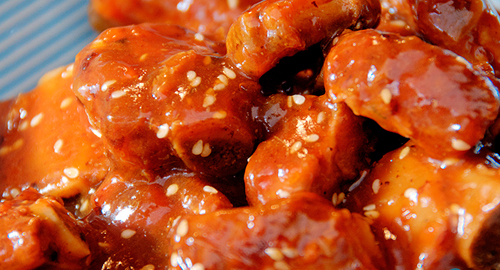 Ingredients:
8oz lean pork cut into 1" cubes
1 teaspoon olive oil
black pepper
1 level teaspoon ground ginger
oil for deep frying (preferably polyunsaturated)
Batter:
6oz plain flour
1 small egg
½ pint water
½ teaspoon oil
Sweet & Sour Sauce:
2 tablespoons white sugar
black pepper
6 tablespoons vinegar
a few drops of red food colouring
1/3 pint water
2 heaped teaspoons cornflour
2 tablespoons pineapple juice (which can be drained from tinned pineapple)
---
Preparation:
Batter: Sift the flour into a basin and make a well in the centre. Drop in the egg, then gradually add and beat in the water. Stir in the oil and set aside for 20 minutes to 'rest'. To make the sauce Sweet & Sour Sauce: Place the sugar, pepper, vinegar, water and pineapple juice into a saucepan and bring to the boil. Blend the cornflour with 2 dessertspoonfuls of cold water and stir into the sauce and continue boiling for 2 minutes. Keep hot. Meat: Place the pork cubes into a basin and add the olive oil, pepper and ground ginger. Mix well. Coat the pork in 2 tablespoons of plain flour, removing any excess flour. Drop the meat into the batter. Heat the cooking oil in a deep pan until hot, but not smoking. Drop the pork into it and cook for 8 - 9 minutes or until golden brown. Drain on absorbent paper, place in a heated serving dish and pour the sauce over. Serve with plain or boiled rice. Recipe courtesy of our sister charity the Welsh KPA
---
Notes:
Adaptations: 1. This recipe can be made with chicken instead of pork. 2. If you do not wish to deep fry, omit the batter and shallow fry the coated meat with a few slices of onion and green pepper. Serve with the sweet and sour sauce and rice.
Serves:
2
---
Suitable for:
CKD Non-dialysis
Dialysis
Diabetes
---
Nutritional Information:
Although this recipe contains pineapple juice, normally forbidden on a low potassium diet, the quantity used is small. As the dish is served with rice which is low in potassium, it is acceptable on such a diet.
---
Source:
Welsh KPA
Join Us
Register with us, become a member and subscribe to our newsletters including the latest on the impact of coronavirus for patients at St George's Hospital.