Red lentil dhal with chickpeas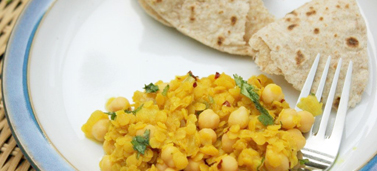 Overview:
A nutritious and healthy version of a vegetarian dish that is popular in many parts of the Asian sub-continent.
---
Ingredients:
220g/8oz red lentils (soaked for 10 minutes)
1 fresh lemon
1 teaspoon turmeric powder
1 tablespoon sunflower oil
2 tablespoons chopped coriander
1 tin of chickpeas, drained
3 cloves of garlic, finely chopped
1 teaspoon cumin powder
1 medium onion, chopped
500ml/17 fl oz hot water
chopped green chillies, as desired
pinch of salt
Wholemeal chapatis or brown rice
Coriander to garnish
---
Preparation:
Time: 30-35 minutes (plus 10 minutes to soak the lentils)
Heat the oil in a saucepan, add the garlic and heat gently until brown.
Add the chopped onion and heat until brown.
Add the salt, turmeric and cumin powder and cook for one minute on a low heat.
Add the red lentils and stir well. Add a squeeze of lemon, mix and then gradually add the water.
Cover with a lid and cook on a low heat for 15 minutes.
Add the chickpeas, chillies (if using) and cover and cook for another five minutes.
Check the lentils are cooked and bring to the boil quickly for two minutes and stir.
Garnish with coriander and serve with wholemeal chapati or some boiled brown rice.
---
Notes:
Dietitian Azmina says:
Dhal is considered a healthy dish, but what's extra special about this one is that it has added goodness from the chickpeas. And unlike traditional recipes, it only uses a tablespoon of oil with a pinch of salt.
Serves:
4
---
Suitable for:
CKD Non-dialysis
Dialysis
Diabetes
---
Source:
NHS Choices by Ruzi Khatun