Update on the Redevelopment of the Renal Unit at St George's - May 2016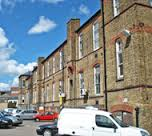 At the recent (April 2016) Annual General Meeting (AGM) of the Kidney Patients Association (KPA), most of the discussion was taken up with presentations from, the then, CEO of the Trust, Miles Scott and Daniel Jones the Head of the Renal Care Group. Both updated the audience on the plans for the redevelopment of the Renal Unit's building and facilities. This article is an update on what was said at the meeting and the progress surrounding the project.
Introduction
Readers will probably be aware that the current infrastructure on the Knightsbridge Wing and associated PortaCabins reached a crisis point over the winter (2015/2016) when many of the predictions about the parlous state of the building came true.
This is a comprehensive update on the progress and plans of the project to-date.
Background to the project
Over the last 20 years a number of attempts have been made to secure a new location for the renal unit on the St George's Hospital Tooting site. The most recent began 2 years ago. The plan was to build a new renal unit alongside a new private patient's wing in the car park of Atkinson Morley Wing. The project was well advanced and had received outline business case approval when the development partner decided not to proceed with the private patient's wing and as such the renal building plans stalled. In February 2016 following a winter of infrastructure crises for staff and patients, the Trust board accepted the need for the renal building project to continue and is now expected to make a decision at the beginning of July 2016.
Problems with the current Knightsbridge buildings
This winter and previously the renal unit staff and patients have experienced a significant number of problems with the building infrastructure. These include:
Fire & Electrical systems – Numerous evacuations including the entire Buckland Ward at night due to electrical failures and false fire alarms.

Heating systems – systems failed and temperatures dropped dramatically during winter. In the summer, parts of the ward reached 30oC.

Water supply – numerous problems with contamination and damage to the purification systems. Also a loss of hot water on some wards.

Drainage - numerous blockages and overflows.

Roof leaks – continual problems in both Buckland and the staff accommodation block.

Clinic and procedure rooms and waiting facilities – inadequate facilities leading to delays, poor patient experience and a loss of dignity and privacy.

Unusable showers & broken taps– crucial to patient hygiene and sense of well being.
Remedial actions on current Knightsbridge buildings
Estates are currently undertaking a number of remedial works with the Knightsbridge Wing to address the aforementioned problems. The intention it to make the place safer and a better experience in the short term. However there is acceptance amongst the board that these are stop-gap measures and that there is no alternative but to move the renal unit to better facilities.
At this point in May 2016, various heating, plumbing and electrical works has been carried out. But more refurbishment work which may involve having some patients reside in other wards temporarily, is required for improved flooring and doors internally to each room and bay in Buckland.
The decision making context at St George's & the NHS
St George's Foundation Trust
Publicity, nationally, has highlighted the £2.45bn deficit across NHS England. St George's is no different and has had substantial deficits in the years 2014/15 and 2015/16.
These deficits have put unprecedented pressures on all budgets within the hospital. Nationally, capital for new building is severely constrained.
In addition a recent review of the estates has reveal the legacy of under-investment in the estates over recent decades. Most of the buildings were built in the 1970's. This has placed a greater pressure on maintenance and refurbishment finances as well as introducing more services competing for improved facilities. For these works to begin there is a need for a first service to move to temporary facilities in order to begin the process of moving services out of existing locations, refurbishing and moving services in to the refurbished facilities, before repeating the process for the next department.
The current Foundation Trust Board position
As most readers will be aware St George's announced a series of management changes recently with
the departure of the Trust CEO, Miles Scott
other departures amongst the board members and senior staff
It is inevitable that these changes will impact the progress of the project, however to date the project is on target to meet its revised schedule.
The previous executive management were clear that Knightsbridge was no longer fit for purpose as a location for renal services. The interim or acting appointees have continued to express support for the project. The KPA, continues to press the board to resolve these issues.
Service reviews across St George's
Medical services are under review across St George's Hospital. The intention is to improve patient care and effectiveness and make decisions about which services
require improvements,
would benefit from moving location within the Trust or
is best performed at another Trust
As part of this review the Renal Unit has already proposed a number of changes which are being assessed. The intention is to move a number of services that don't need to be on the main site, to satellite sites closer to patient's homes, just as dialysis is today, at Kingston, Colliers Wood and North Wandsworth.
These changes include, but are not limited to:
Moving some (1 year plus) post transplant routine clinic appointments to the newly rebuilt, nearby, Nelson Health Centre. Many clinics for other St George's services are already held there. (Patient feedback has been positive from those renal patients who have used the building).
Increasing the use of Colliers Wood dialysis centre by fitting out

the top floor (currently empty) for renal staff including those currently downstairs, meeting rooms and
home (PD & HD) dialysis training and support
more dialysis stations to be run by St George's NHS staff for patients with greater nursing needs during dialysis
additional onsite services such as blood transfusions.

Review more dialysis stations at North Wandsworth
Potential for new dialysis stations at St Mary's Hospital, Roehampton
All of the above proposals are subject to change and are based on clinical need and patient benefit.
The planning and development process for a new building
The table below, outlines the project milestones and are
Objective

Success measure & outcome

Completion Date

Facilitate an updated model of clinical care that also improves efficiency and productivity

New renal service will be able to demonstrate new patient pathways adopted
Improved scores across a range of appropriate indicators

July 2016

Improve the patients experience of renal care at St. George's

Patient surveys
Improved friends and family test scores

Summer 2016

Relocate and replace the sub-optimal facilities for renal services with new facilities on the St. George's site

Delivery of following timetable

Up-dated Project Initiation Document – 12th May 2016

Approve Project Initiation Document – 17th May 2016
PID approval by EMT 23rd May 2016
Extra ordinary Renal Board meeting to approve FBC 22nd June 2016
Final draft of Full Business Case (FBC) – 30th June 2016
Trust Board approval 7th July 2016
Work starts on site – summer 2016 subject to option selection.

Summer 2016

Improve recruitment and retention of high quality staff in the new renal unit

Reduced turnover of staff
Reduced vacancy rates

2016/17

Increase research and education at St. George's as a result of the relocation

Increased number of research projects undertaken at St. George's
Increased number of papers published
Increased research income

2016/17
Building options
The current estate does not have an obvious location that the renal unit can just move into. It has been determined that if the renal unit is to be the first of the services to move to a new location, it will need to move to a temporary (short term) location to allow a permanent (long term) site to be built on.
As discussed above, some services of the renal department may move off site however the core services will remain. These are:
Inpatient Ward (24 beds - an increase from the current 20)
Dialysis (16 stations)
Transplant clinic (clinics following recent transplantation or those with subsequent complications)
Some staff accommodation
Short Term Options
Modular building to accommodate 2000 square metres in car park 2 with dedicated link to the lower ground Atkinson Morley Wing. As a temporary structure this building would be designed to the same specification as the permanent building but exclude external cladding.
Decant and refurbish the Courtyard Clinic with a modular add-on in order to provide circa 2000 square metres. This option assumes that GU medicine can be relocated by mid-August 2016.
Long Term Option
Decant, demolish and decontamination of Knightsbridge wing site and design new modular building to accommodate 2000 square metres of renal service and / or yet another service.