Dr's Corner February 2015
Published: February 24 2015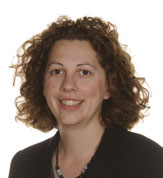 In the second article by the St George's Renal team, Miss Sarah Heap talks about our Kidney Donor Day,
Letter from Miss Sarah Heap
At this time of the year I start planning for the live donor day event. As surgical speciality lead and clinical lead for the live donor kidney programme I reflect back on all the generous individuals who have undergone major surgery to donate a kidney to benefit someone else.
This year we performed thirty seven donor operations all being performed by a keyhole technique. Forty three renal patients received a live donor kidney. The discrepancy in the numbers is that some kidneys come from other centres from altruistic donors. This is a growing area and more and more recipients on the kidney transplant waiting list are benefitting from these donors.
Another area of growth for people awaiting a transplant is the evolving kidney sharing scheme. This scheme is a national scheme that allows unmatched potential donors and recipients to enter. This year the number of matching run will increase to six times a year improving the potential of finding a match. More and more altruistic kidney donors are registering to be a part of this scheme. These donors can then benefit more and more recipients as it starts a chain of donation similar to schemes they have in the Unites States.
The Kidney Patient Association have always supported the transplant team to enable living donation. In 2005 they purchased the equipment to enable keyhole donation which is still being used today. The keyhole method has a number of benefits for the donor such as reduced pain, smaller scars, shorter length of stay at the hospital (on average 2 days after surgery) and a faster return to work. At St George's we have now performed 413 live donor operations over the last ten years
Back to the Kidney Donor Day. This will be on the 24th February and is an award ceremony. All the donors from the previous year are invited. We congratulate and thank them for their generosity and achievement. There is laughter and sometimes tears as it is a very emotional day. They meet other kidney donors and often swap contact details. Its great to catch up with them and hear about their recipients. We strive to increase the number of living donor transplants every year to benefit as many of our renal patients as possible.
Thank you for your continued support.
Miss Sarah Heap
Renal Surgical Speciality Lead, Consultant Transplant Surgeon