Home Haemodialysis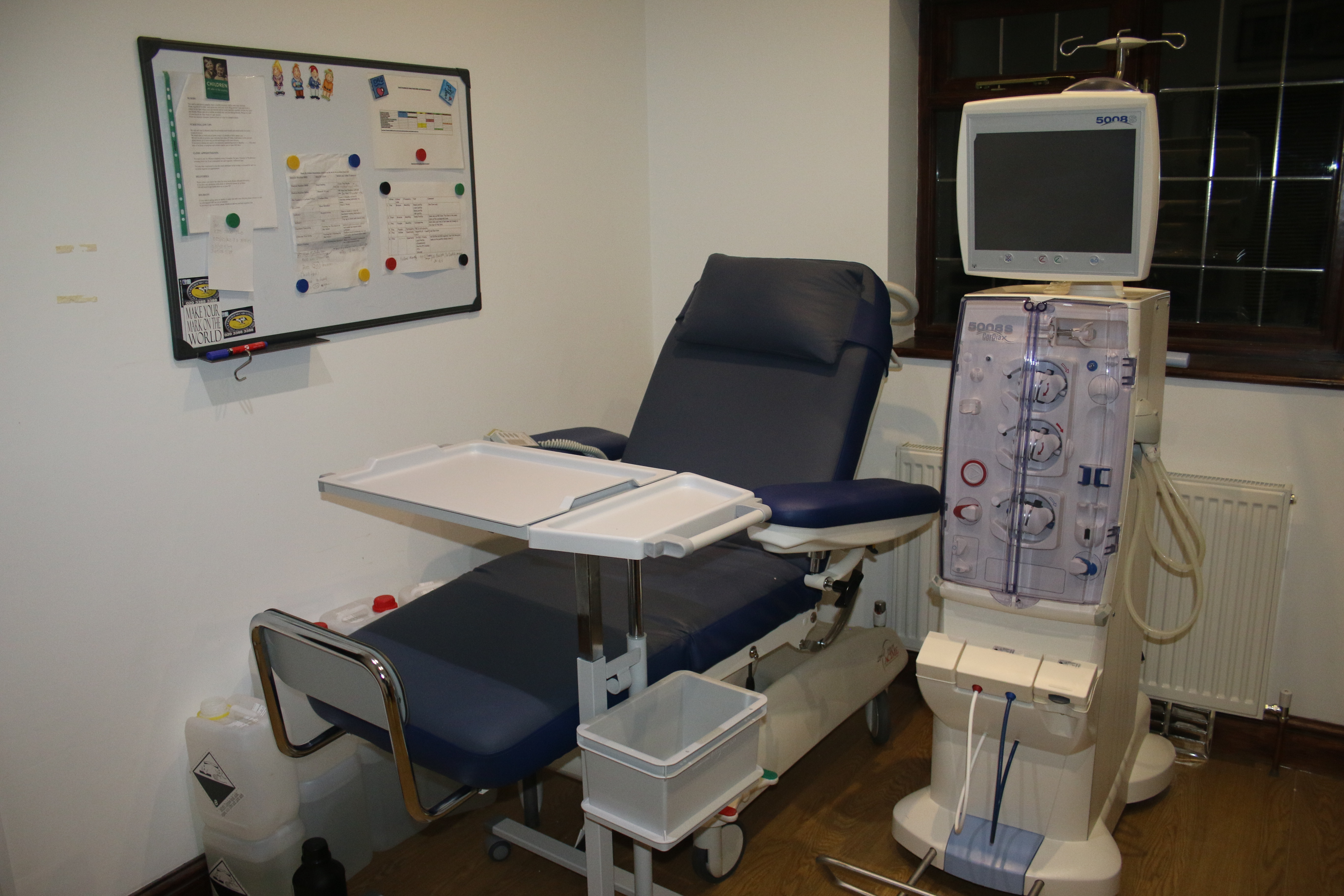 Home dialysis is an increasingly popular option across the UK and world, due to the increased flexibility and reduced travel times. What does it entail and why might it be right for you?
Many patients at St George's have chosen to dialyse at home. Most using peritoneal dialysis, but some with haemodialysis.
This gives you more flexibility about when you dialyse, including the possibility to dialyse overnight, and more independence. Your training at St George's, on how to perform home haemodialysis, takes up to three months. Someone will visit you at home to make sure your situation is suitable. For example, they will check there is enough space to store the machine and supplies. The hospital will provide you with most of the equipment you need and also advise you of any changes which may have to be made to your home so you can dialyse there. There is no charge for delivery and disposal of supplies or for any reasonable adjustments made to your home.
If you are considering home haemodialysis and would like to discuss this further, speak to the home haemodialysis sister or ask your consultant to refer you.
What equipment is provided?
The hospital providers a patient with the following equipment:
A Haemodialysis machine. Currently (May 2016) a Fresenius 5008s.
A Water Reverse Osmosis (WRO) machine - this purifies the water removing bacteria.
A "plumbing board". This is a pre-prepared board that the installer brings that contains various valves, a stop-cock, chlorine filter, water leakage cut-off device and drainage connections.
A dialysis chair
A tray-table for dialysis preparation as well as for patient use during dialysis.
Weighing scales
Thermometer
Optional shelving for smaller supply items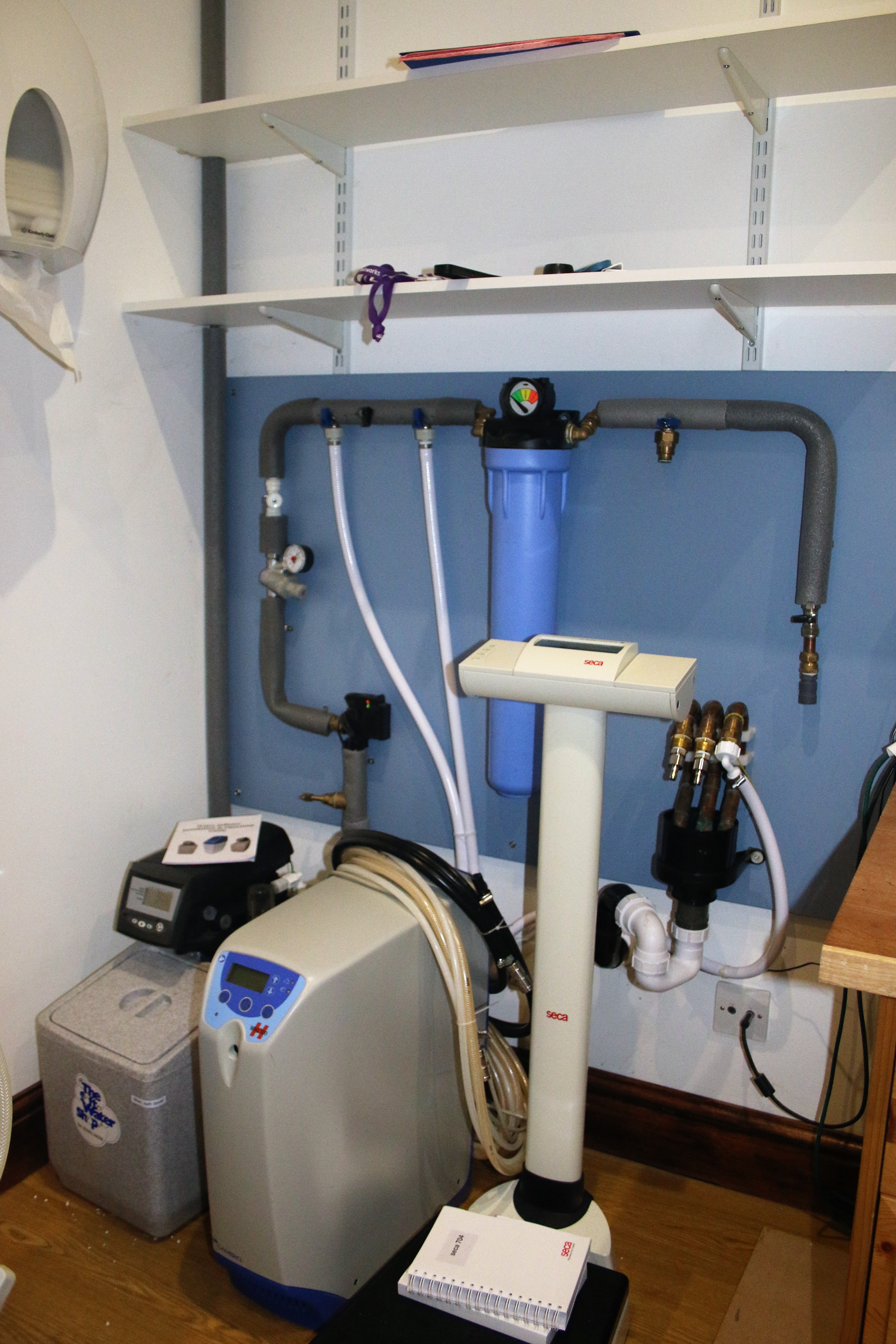 What supplies are provided?
Typically a month's supply of medical items are provided. In some circumstances it may be possible for this to be increased in frequency to every 2 weeks. These items are prescribed by the home dialysis team and as such vary from patient to patient. However typical items include:
Dialysers - disposable items that clean the blood.
Line set - disposable plastic tubing that isolates the blood from the machine and transport it to and from the patient to the dialyser
Dialysis needles - as per the patient's prescription
Acid Concentrate - mixes with the bicarbonate to form a pH neutral dialysate.
BiBags - bicarbonate bags that mix with the acid concentrate to form a neutral dialysate
Sporotal & Citrozine - cleaning solutions for disinfecting the machines
Diasafe & carbon filters - completing the filtration to provide ultra-pure water. Also with water testing strips.
Cleaning, waste and disinfection materials - wipes, gloves, hand towels, soap & alcohol gels, waste bags, needle bins.
Dressing packs etc - on & off packs, dressings, plasters, gauze, tapes etc
Syringe & needles
Saline kits - as backup to the water supply.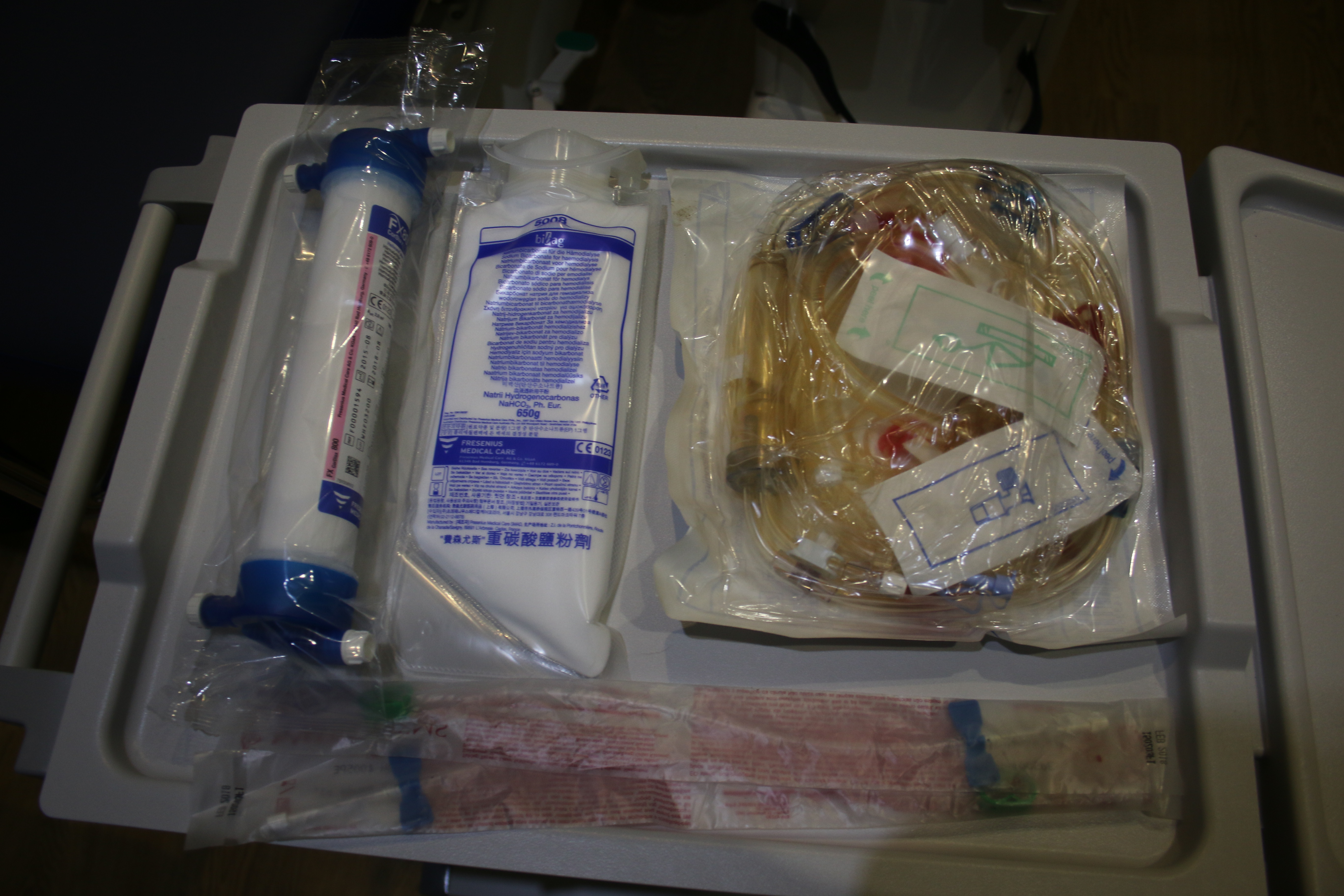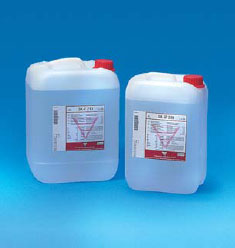 Many of the above items are supplied in quantities that last more than a month. The acid concentrate is the heaviest and bulkiest item. This can be ordered to an exact month's requirement.
What are the requirements before I can dialyse at home?
The suitability of your home and personal circumstances will be assessed by the home dialysis team prior to undertaking a training programme. Typical suitability criteria include:
The space to accommodate all of the equipment and supplies mentioned above.
A suitable location which can supply mains water and drainage.
A partner who can assist in the dialysis and be available to help in an emergency.
This final requirement is currently (May 2016) under review at St George's. Some hospitals around the country allow some patients to dialyse alone. Please ask the team about this as part of any enquiry into home haemodialysis.
Why it might be right for you
You do not have to travel to a unit to dialyse, but you will still have to come into hospital every six to eight weeks for clinic appointments.
In a dialysis unit you will dialyse three times a week for between three and a half and five hours. At home you have the freedom to dialyse more often and/or for longer if you wish. Dialysing for longer usually means that you will feel better and it reduces the risk of developing other medical conditions.
You may be able to dialyse overnight instead of during the day.
You have access to telephone support if there are any problems with your dialysis.
You will have more independence and flexibility to fit dialysis around your work, family and leisure time.
Why it might not be right for you
You might feel you need the support of nurses around you.
You might not have enough room in your home for the dialysis machine and other equipment.
There might be a medical reason why you are not able to dialyse at home.
More Information
You will find a patient video talking about her experiences of home haemodialysis here. Please note the machines shown in the video are not the machines used by St George's.